Sweet Home 3D 7.2.1 – Home interior design made easy
---
Sweet Home 3D is an easy to learn interior design application that helps you draw the plan of your house in 2D, arrange furniture on it

and visit the results in 3D.
Sweet Home 3D is aimed at people who wants to design their interior quickly, whether they are moving or they just want to redesign their existing home or office.
You may:
Draw walls and rooms of your home from scratch or upon the image of an existing plan, on one or more levels.
Change the color or the texture of the walls, the floors and the ceilings, importing images of your own patterns if needed.
Drag and drop doors, windows and furniture onto the plan from a catalog of 1205 objects organized by categories, in which you can import 3D models created by yourself or downloaded from the web.
Customize the size, the orientation, the elevation, the colors and the textures of each piece of furniture.
View the changes in the plan simultaneously in a 3D view, in which you can navigate either from an aerial view point, or from a virtual visitor view point.
Create a photorealistic image of your arrangement depending on the time of the day and the light sources placed in the plan.
Create a video from a virtual path in the 3D view.
Annotate the plan with room areas, dimension lines, texts, arrows and a compass rose.
Print the home plan and the 3D view or export them in files at PDF, PNG, JPEG, SVG, OBJ standard formats, to reuse designed homes in other software.
WHAT'S NEW
Version 7.2.1:
Added dialog box to modify dimensions
Handled dimensions display in 3D view
Added elevation dimensions to show items height
Added support for objects editing in 3D view
Managed magnetized placement of objects on shelves
Added preset postures choice for mannequin models
Added multi level printing support
Other enhancements and bug fixes
REQUIREMENTS
OS X 10.9 or later, 64-bit processor
---
ScreenShots :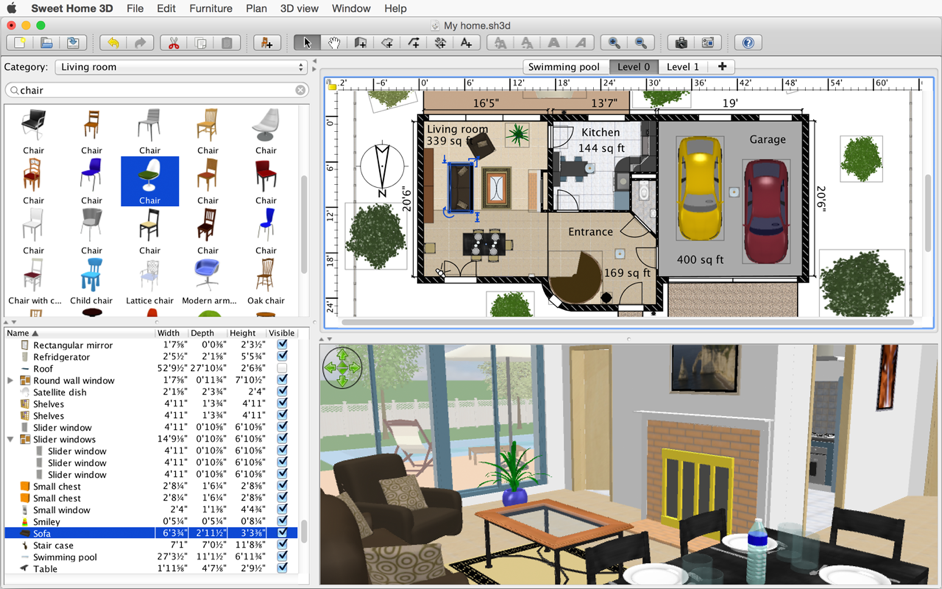 Using VPN will prevent your ISP from tracking your activity especially when downloading torrents, so it is highly recommended to use VPN service to hide your identity & avoid DMCA notices!! GET VPN SUBSCRIPTION NOW
If you are using Adblocker!! Please support this website by adding us to your whitelist. Ads are what helps us bring you premium content! Or read this to know how you can support us. Thank you!
Size – 296.5MB
---